PAT Testing from Test One Electrical
PAT Testing, Fixed Wire Testing, Fixed Wire Inspection
Test One can provide the following services:
Portable Appliance Testing (PAT)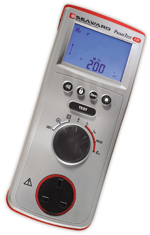 Under the Electricity at Work Regulations 1989 employers have a duty to ensure that the electrical equipment they provide complies with regulations and are safe for use by employees and visitors.
Test One engineers carry out visual inspections, to check for damage to plug, fuse or appliance itself, and assess whether the appliance is correctly wired. Next, they carry out earth continuity tests, earth leakage tests, polarity tests and insulations tests, using specialist, calibrated testing apparatus.
Test One engineers also check the area where the appliance is operating, advising the client of any hazards which may cause injury or accident.
A hazard can be as simple as "daisy chaining", where too many extension leads are plugged into each other, causing over loading of the original plug; a known cause of electrical fires.
Electrical Installation Condition Report (EICR)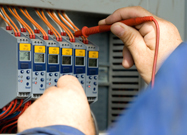 Legislation requires that electrical installations are maintained in a safe condition, and therefore must be periodically tested. In addition, Insurance companies, Licensing authorities and Public bodies may require evidence that your electrical installations have been tested periodically.
Compliance with BS7671 and The Electricity At Work Regulations 1989, plus any changes in occupancy, use, alteration or addition, electrical loading or possible damage (wear & tear, corrosion, ageing & environment) are all further requirements for a periodic inspection and test.
All periodic inspections of the fixed wiring system within your building will be certified by our contractor with an NICEIC certificate.
We can also provide a quote to carry out any remedial work discovered as a result of the Inspection and Testing, in order for your installation to comply with BS7671, and gain a clean bill of health.
Emergency Lighting Testing, Inspection & Installation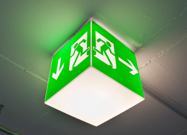 The purpose of emergency lighting testing is to ensure that emergency lights remain fully functional during mains electrical failure, and all lighting and exit signs are up to date with current legislation and adequate for the purpose intended. (BS5266)
The British Standard recommends that emergency lighting systems be regularly serviced by 'competent' persons, these being persons with the necessary knowledge, skills and training to undertake emergency lighting servicing procedures.
Implementation of a periodic system of inspection and testing ensures that emergency lighting systems remain reliable at all times, and that in the event of an emergency or power failure, the emergency lighting operates, ensuring that people can safely evacuate the building.
Fire Alarm Inspection & Testing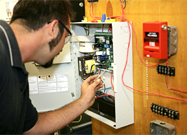 The best-designed fire alarm system can be rendered ineffective if not properly maintained. Fire alarm systems are expected to help protect people, property and assets, but you can't tell it's fully operational by just looking at it.
In addition, electronic systems degrade over time and other contaminants such as dust and dirt, vandalism and poor maintenance systems could compromise the systems operation.
The good news is that with proper testing, inspection and maintenance you can keep your fire alarm system at optimum operating performance.
If you have 5 or more employees, you are required by law to carry out a fire safety risk assessment. (The Regulatory Reform (Fire Safety) Order 2005)
Periodic fire alarm testing is a requirement for a local authority fire certificate.
Contact Test One for your comprehensive and independent report on the condition of your fire alarm system, to ensure peace of mind and compliance with legislation.
Pre-purchase Inspection & Testing
Test One provides a vital testing and inspection service, to ensure not only peace of mind, but also highlighting any areas which may need work prior to completion of your new purchase. This can be used as a valuable tool in order to negotiate a better price.
Landlord Safety Certificates
The Electrical Equipment (Safety) Regulations 1994 state you must ensure that the electrics are safe, with operating instructions and/or safety notices issued before a rental commences. Landlords are obligated to ensure that all the electrical appliances and fittings within the property are safe and in good working order. Failure to comply with the regulations is a criminal offence and may result in:
Property insurance likely to be invalidated
£20,000

per item

fine
Imprisonment of up to six months
Possible manslaughter charge in the event of death
Tenant may sue for civil damages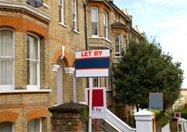 Test One can provide full periodic inspection report (PIR) on your rented property, plus low-cost portable appliance testing (PAT). Older properties often require fuse board upgrades and RCD protection, which will provide electric shock protection. Many Letting Agents and Local Authorities require both EIRC and PAT before they will place tenants, and if the property is an HMO (House of Multiple Occupancy) it will require yearly PAT testing for all appliances.
Electrical Contractors, Commercial, Industrial & Domestic
Please contact Test One for your free, no obligation quote for all your electrical requirements.